Ten Buy Ten
Ipsity has been promoting outdoor events since 2003.  The first event was a mountain bike race in Welch, Minnesota.  We helped start the Minneapolis Bike Tour in 2007 and supported many more events throughout the country.
Promoting these events engage our clients' brands/services in an intimate  environment.   Having a mass of participants gives the ability to shake a hand and this is vital to a brand.  With this history, we noticed a lack of support for these promoters.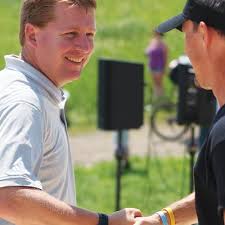 The majority of promoters work out of a 10′ x 10′ tent.  We want to  introduce you to Ten Buy Ten.  Giving the promoter tools to sell more effectively and efficiently is the focus.    The first task is to support registration tasks that use paper forms.
Online registration ends, what does the event do to allow for more participants?  Events print forms that need to be filled by participants.  Promoters try and get an internet connection to push data to a credit card processor and cloud databases.
TenBuyTen builds hardware and software packages specifically for race/event registration on event day.  Our tech does not rely on a internet connection but most of all can be scaled with use.  Increase data retention makes this tech a disruptor in the industry. 
Our system is releasing a beta version summer of 2018.  Let the crew at TenBuyTen know you are interested.  Increase your data retention and customer service of your next event.
Waiver signature printer and touch screen display needs power
 Assists promoters, participants and timing/scoring
Participant speed of registration increase by 50%
Paper waste/cost lessen by an estimated 85%